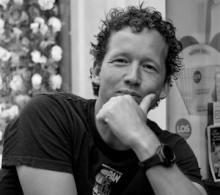 Joost Wouters
If You Could Change One Thing In Your Organization ...
"We don't have a clear strategy yet that will really make a difference."
"The working atmosphere in our organization is not exactly vital and sparkling"
"My Sales department is not as pro-active and in the lead as I would like them to be."
"We do a lot of non-Marketing activities that take away our focus and time."
"Our Management Team is actually a group of department heads rather than one team."
"We are facing a high turnover and have to deal with vacancies, negativity and lost knowledge."
"We lose a lot of time with unproductive, boring meetings and internal reporting."
"We constantly have to change priorities, which leads to confusion and inefficiency."
"Our market share is under pressure and we have limited resources to address all the issues."
"Finally a 'how to' book that delivers on its promise."

"Highly recommend to anyone - senior executive, CEO, entrepreneur or just starting out on your career."

"I love Joost's powerful approach to inbox handling and I think you'll love it too."

"Fantastic! Clear method to boost your productivity and to get more important things done."

"We take driving lessons before we can take a car to the road. In the same way, you should read this book before you start using email."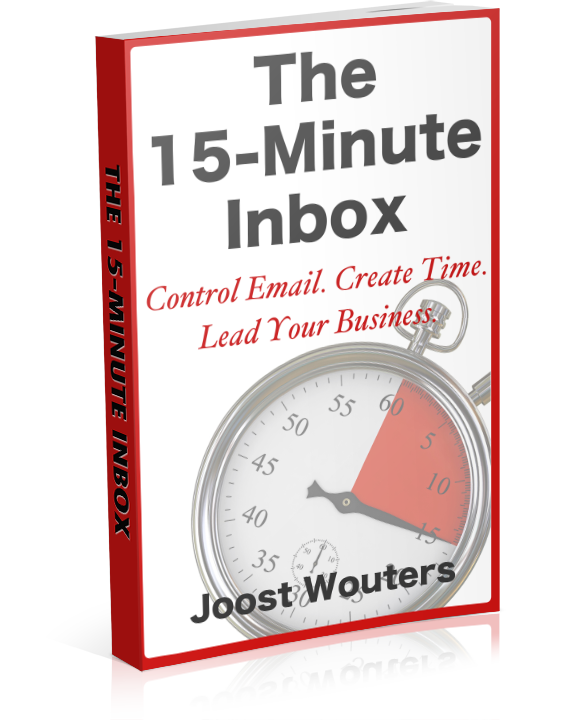 Get 4 FREE videos on how to control your email, create extra time and focus your attention on your business rather than your inbox. Enter your info below to receive the link for instant access.
What Our Clients Say
Our MT runs as never before and our business as well. We are +12% ahead of targets, and looking back I have to conclude that Spain has been the turning point.

Heineken

Energetic and vibrant: this is how I would describe Joost´s classes! The class became a team and Joost was an important part of it: coach, colleague, supporter and adviser. Thank you Joost!

Fundesem Business School

I was very impressed with the knowledge and preparation from Joost's side. He was quick, efficient and very inspiring. He gave us all a lot of tools to work with and we ended the day with a list of relevant actions. I can really recommend to work with Joost.

PepsiCo

For my team in the Netherlands, your training was a key next step in our team effectiveness program. The tool is very individual, actionable, practical and allows follow up.

Procter & Gamble

I have worked twice with the programs from ACTIMPACT. Both times it brought clarity in our goals, commitment of the whole team and a challenge for every team member. They're just great!

Uniekaas

ACTIMPACT has ensured that our whole sales department has become more proactive, stronger and more decisive and that the cooperation with marketing has been reinforced.

Nestlé

Joost has worked with our operational leadership team in a very inspiring and professional way. He is excellent in bringing the combination of process thinking and teambuilding together with a good understanding of the FMCG business.

Imperial Tobacco

I highly recommend Joost to facilitate strategic discussions of teams who are determined to make a next big step and need a bit of team dynamics, reflection, challenging view and spark.

Heineken

We hired Joost when our market was in a down turn and we needed a combination of team building and a shared and focused strategy. Joost was key to helping us turn our company around and restore our business to profitability way a head of the market. He is a great facilitator and will not only help you believe the impossible is possible, but will also help you achieve it.

Russell Reynolds Associates

Joost, I have rarely seen such a professional approach! Thanks.

Heineken

The strategy session we held under the guidance and leadership of Joost was very impactful. Within a few days we were able to formulate our strategic goals with actionable steps in a way that would give us a very concrete plan, ready to communicate throughout the entire organization.

C&A

With our market share under pressure, we were facing a lot of challenges and workload. Joost supported us to win a lot of battles, to create many Best Practices for the rest of the world and to become realistic in what we can and cannot accomplish. He really gave us the focus we needed.

Sara Lee

Joost is an authentic and original consultant/coach/facilitator with enourmous energy and drive. He made it possible that we overscored our EBIT target very substantially and had more fun and collaboration along the way. He is Mr Results.

Executive Search

Our team has created shared ownership and responsibility for their business. They will reach their targets and are proud again on the way they work together and on their business results.

Unilever

We had put ourselves a very challenging goal: 8% increase versus year ago. We have exceeded this ambitious objective and reached the highest volume in 14 years.

Heineken

I worked a couple of times with Joost. He is able to get a team moving, focussing on what is important and what is working. Joost combines a very warm and inviting personality with a tough and "no execuse" business mentality.

Heineken

Joost did very good ground work before the workshop and was very well versed with the issues at the start of the workshop. His vast knowledge of the commercial world and a very impactful facilitation got the best out of everyone.

Reckitt Benckiser
Mar23

If your company is big enough, you have probably different departments for the specific activities and competences that you…
Feb23

Negotiating is often a "forgotten" strategy to increase profit

There are two important principles in negotiation:

Ever